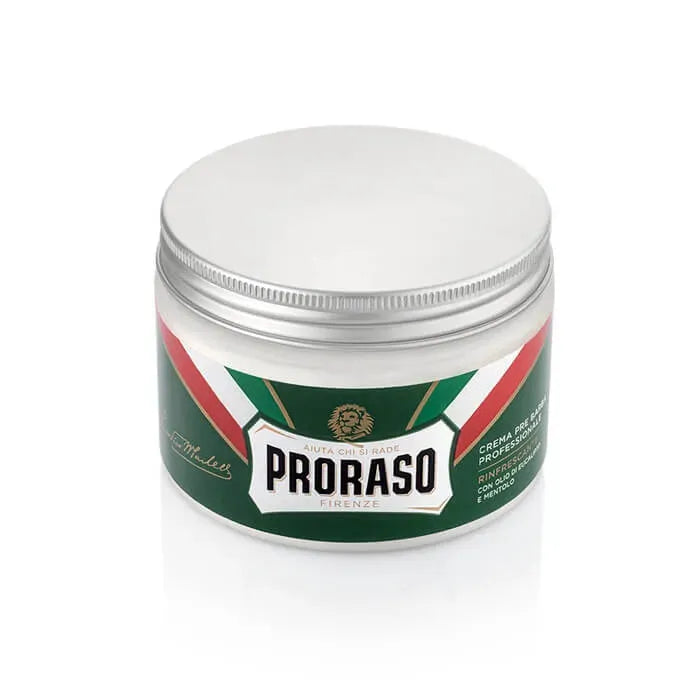 Proraso Green Refreshing Pre-Shave Cream 300 ml
Sale price
€17,95
Regular price
Tax included.
Proraso Green Refreshing Pre-Shave Cream 300 ml
Sale price
€17,95
Regular price
Product description
Ingredients
Proraso Pre-Shave Crème is een professionele pre-shave crème die is ontworpen om de huid voor te bereiden op een comfortabele en gladde scheerbeurt. Het is speciaal ontwikkeld voor professionele kappers en barbershops en wordt geleverd in een 300ml verpakking.
De crème bevat een unieke mix van natuurlijke ingrediënten zoals eucalyptusolie, menthol en kamfer, die helpen om de huid te verzachten, te hydrateren en te verfrissen. Het vermindert ook het risico op irritatie en scheerwondjes.
De Proraso Green Refreshing Pre-Shave Cream 300 ml kan worden aangebracht voor het scheren en zorgt ervoor dat de haren worden verzacht en rechtop gaan staan, waardoor ze gemakkelijker kunnen worden afgeschoren. Het zorgt ook voor een beschermende laag tussen de huid en het scheermes, wat de kans op irritatie en roodheid vermindert.
De Proraso Green Refreshing Pre-Shave Cream is geschikt voor alle huidtypes en kan worden gebruikt met elk scheermes. Het is een ideaal product voor professioneel gebruik in barbershops en kapsalons, maar ook voor thuisgebruik voor een gladde en comfortabele scheerbeurt.
DeProraso Green Refreshing Pre-Shave Cream heeft een rijke en romige textuur die gemakkelijk kan worden aangebracht en geabsorbeerd door de huid. Het is vrij van parabenen, siliconen, minerale oliën en kunstmatige kleurstoffen, waardoor het een veilige en natuurlijke optie is voor persoonlijke verzorging.
De Proraso Green Refreshing Pre-Shave Cream 300 ml verpakking is ideaal voor professionele kappers en barbershops, omdat het een grote hoeveelheid crème bevat en de verpakking kan worden gebruikt om de crème gemakkelijk te doseren en aan te brengen. Het is een kosteneffectieve oplossing voor professionele verzorging van de huid voor het scheren.
In combinatie met andere producten van Proraso, zoals scheercrème en aftershave lotion, kan de Proraso Pre-Shave Crème zorgen voor een complete en effectieve scheerroutine. Het is een must-have product voor mannen die waarde hechten aan een gladde, comfortabele en verzorgde scheerbeurt, ongeacht of ze professioneel worden geschoren of thuis zelf scheren.
Proraso Groen
Het was de eerste lijn van Proraso, de 'groene' klassieker. Vernieuwd in formulering, onderscheidt het zich ten opzichte van de eerdere producten door de kwaliteit van de huidige ingrediënten. Verfrissend en verkwikkend, minder geschikt voor de zeer gevoelige huid, maar voor velen weldadig. Met aangename noten van menthol en eucalyptus.

Proraso pre-shave zit duurzaam verpakt in een kunststof bowl met schroefdeksel met een inhoud van 300ml.

Over deze geurlijn
Het klassieke aroma van Proraso Original is gebaseerd op het succesvolle huwelijk van eucalyptus en munt; een intens frisse ervaring van natuurlijke aroma's die jouw huid een verkwikkend gevoel zal geven.