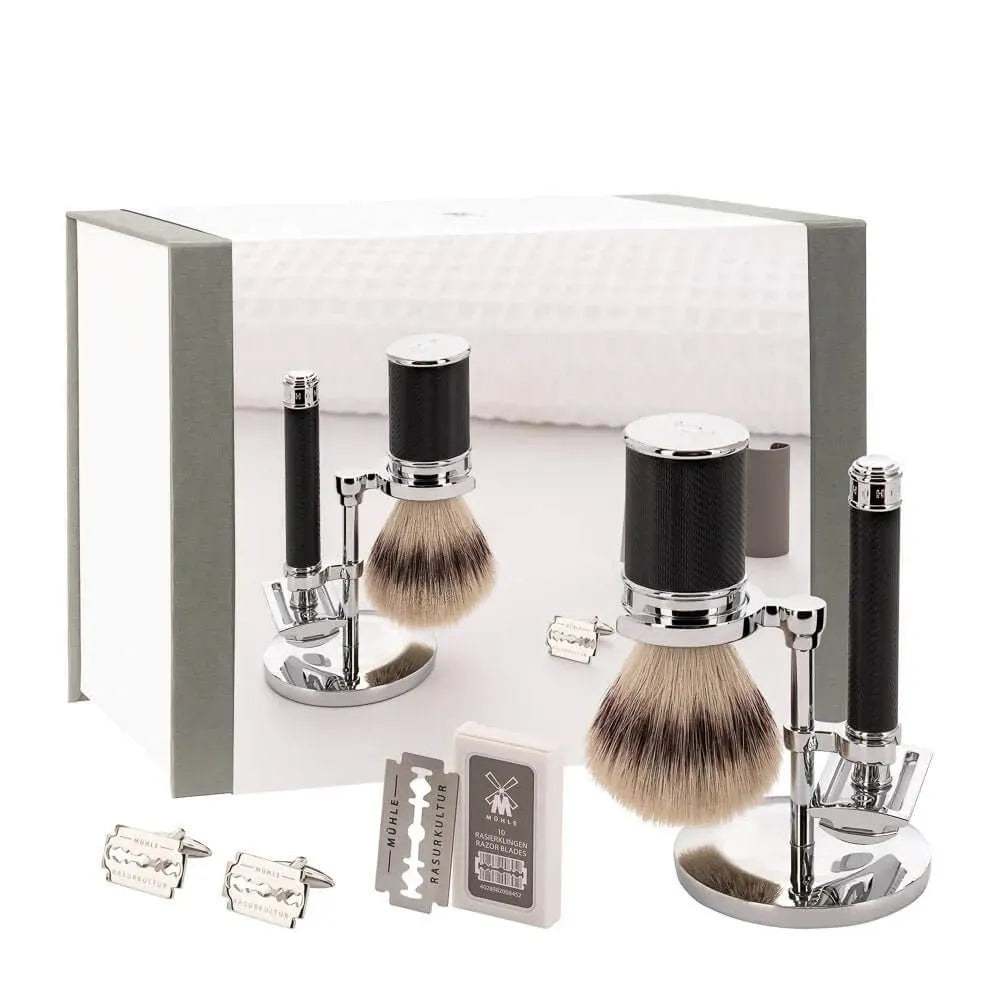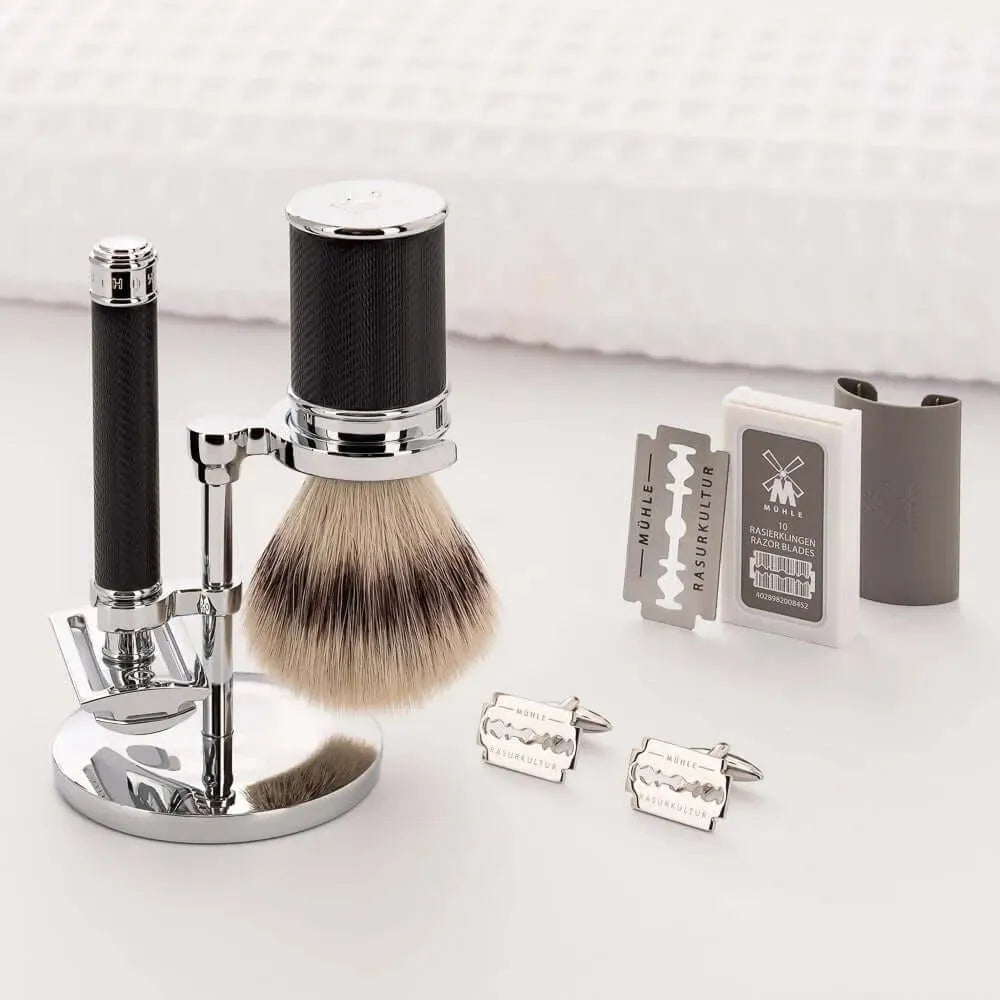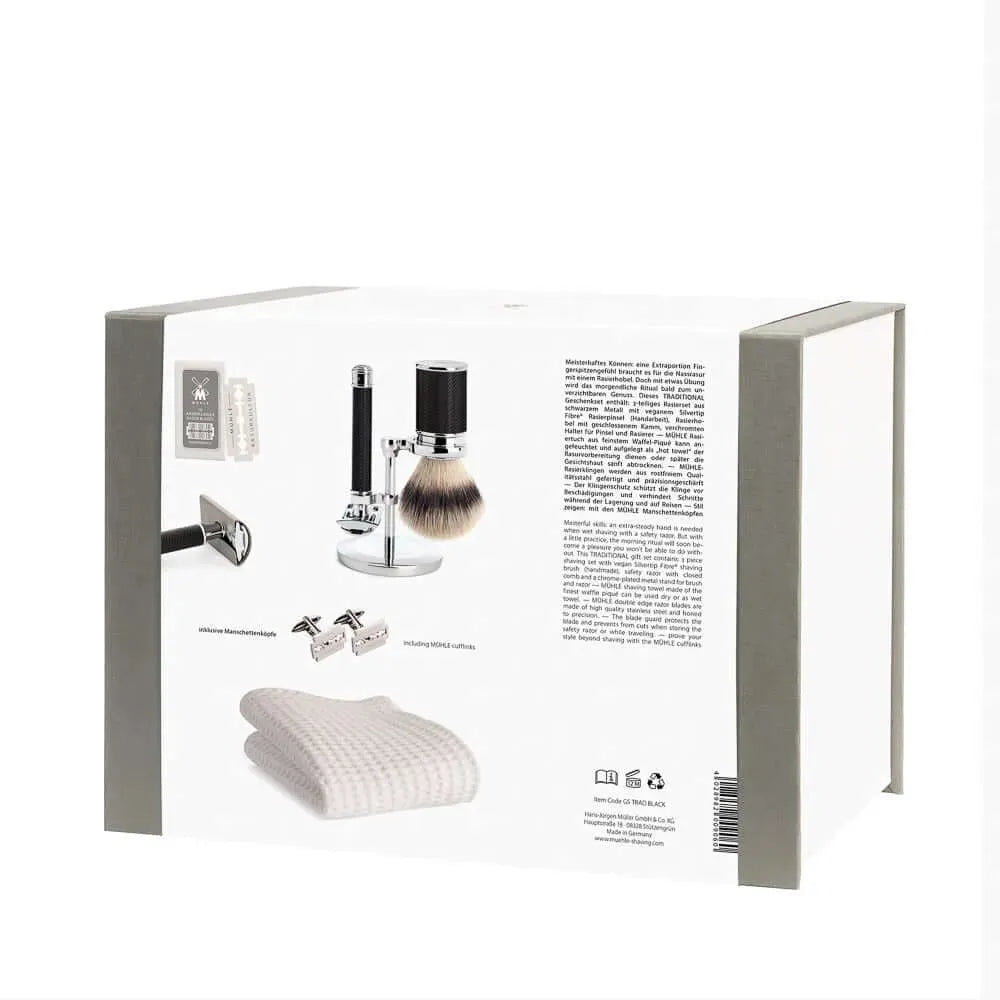 Gift Set TRADITIONAL BLACK van Mühle
Sale price
€189,00
Regular price
Tax included.
Gift Set TRADITIONAL BLACK van Mühle
Sale price
€189,00
Regular price
Product description
Ingredients
De giftset bestaande uit:

scheerkwast met Silvertip Fibre®, zwart verchroomd handvat
veiligheidsscheermes met gesloten kam
standaard van metaal, verchroomd (RHM SR SET)
mesbeschermer
MÜHLE manchetknopen
mesjes van MÜHLE (1 x 10 mesjes)
scheerhanddoek (1 stuks)
Het materiaal - chroom
Zonder chroom zou de wereld veel van zijn glans verliezen. In de afwerking van de accessoires voor nat scheren toont het zijn beste kwaliteiten: Het materiaal is corrosiebestendig, gaat zeer lang mee en heeft een luxueuze, verleidelijke glans. In contrast hiermee komen de kleuren en vormen van andere hoogwaardige materialen optimaal tot hun recht.

De kop van de scheerkwast bestaat uit - Silbertip Fibre®
De hoogwaardige synthetische vezels vormen een wereldprimeur. Mühle scheerkwasten hebben een synthetisch geproduceerde premiumkwaliteit waarvan de materiaaleigenschappen dezelfde zijn als kostbare natuurhaar, de zilverdas. De meeste gebruikers zeggen zelfs dat deze kwaliteit betere prestatiekenmerken biedt dan het natuurlijke haar.

Silvertip Fibre®" is zeer zacht en heeft fijne punten, maar iets stabieler dan natuurlijk haar in het middengedeelte. Deze eigenschappen zorgen voor een aangenaam, zacht gevoel op de huid bij het opbrengen van het schuim, zonder dat de gewenste stevigheid van de haren bij het opschuimen verloren gaat. Bij dagelijks gebruik zijn de handmatig bewerkte vezels minder gevoelig dan natuurlijk haar, omdat ze sneller drogen en bestand zijn tegen scheerzepen en -crèmes.

De volledig veganistische vezels zijn ook iets gemakkelijker te gebruiken dan natuurlijk haar, omdat ze een bijzonder romig en dik schuim produceren uit een kleine hoeveelheid scheerzeep of crème, die daardoor veel spaarzamer wordt gebruikt.

De scheerkop - Klassiek mes - Veiligheidsscheermes 
Al generaties lang wordt het veiligheidsscheermes beschouwd als een stijlvolle klassieker die zelfs randen met precisie kan scheren. Voor velen is het het scheermes bij uitstek. Zijn vormgeving past uitstekend bij het design van de MÜHLE producten.

Ook al vraagt het open mes in het begin wat respect: Na een korte gewenningsperiode en geleid door een vaste hand, zorgt het voor een zeer gladde scheerbeurt en een duurzaam resultaat. In tegenstelling tot moderne messensystemen beweegt de kop van het veiligheidsscheermes niet. De mesjes worden vervangen door de dop los te draaien. Ze zijn overal in de handel verkrijgbaar.

De beschermkap
Gemaakt van kunststof beschermt het mes en voorkomt snijwonden bij het opbergen van het scheermes of tijdens het reizen.

Messen van MÜHLE
10 stuks MÜHLE dubbelzijdige scheermesjes voor veiligheidsscheermessen
doos met 10 individueel verpakte roestvrijstalen mesjes
geschikt voor alle veiligheidsscheermessen

Scheerdoeken van MÜHLE, wafelpiqué
Toegepaste scheercultuur: Iedereen die zich ooit door een barbier heeft laten scheren, kent het genot van een perfecte scheervoorbereiding, die begint met het leggen van een warme handdoek op de te scheren gebieden. MÜHLE scheerdoeken van fijn wafelpiqué zijn precies voor dit doel ontworpen.

Door de vierkante reliëfstructuur neemt de katoenen textuur veel vocht op en houdt de weldadige warmte tijdens het aanbrengen vast. Na de scheerbeurt verwent het zachte materiaal opnieuw bij het reinigen en drogen van het gezicht.