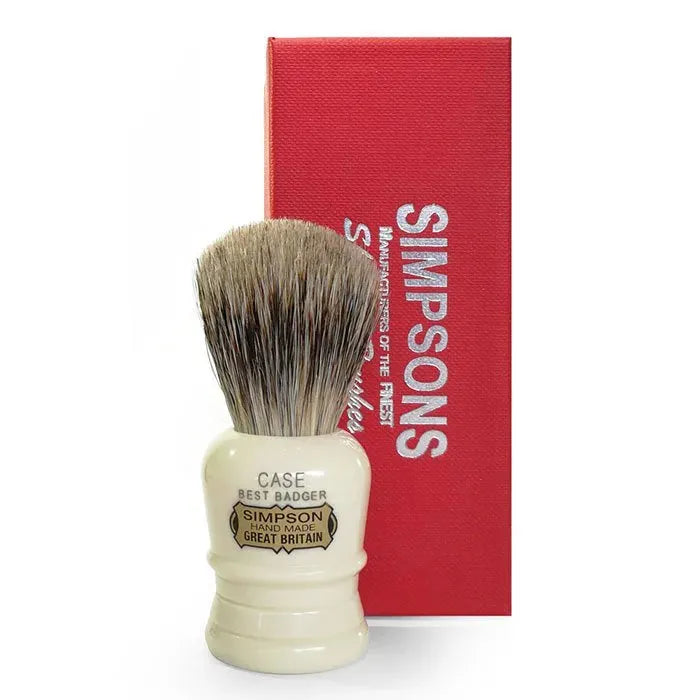 Simpsons shaving brush case c1 best badger
Sale price
€52,95
Regular price
Tax included.
Simpsons shaving brush case c1 best badger
Sale price
€52,95
Regular price
Product description
Ingredients
Alexander Simpson begon met het maken van borstels in 1919. Sindsdien hebben de Simpson-scheerkwasten een wereldwijde reputatie opgebouwd. In 2008 kocht Progress Vulfix het bedrijf dat nog steeds met de hand de beste scheerkwasten ter wereld maakt.

De Case Simpson-scheerkwast is gemaakt met Best Badger-haar. 

Totale lengte - 83 mm.
Handvatlengte - 43 mm.
Knoop breedte - 40 mm.
Knoop - 19 mm.
Handgemaakt in Engeland.
Met betrekking tot het gebruik en het voortdurende onderhoud van uw nieuwe Simpson-scheerkwast, raden we de volgende procedures aan:

Probeer bij het scheren heen en weer te strijken met de scheerkwast om schuim op te bouwen in plaats van cirkelvormige 'pureer'-bewegingen die de neiging hebben om extra spanning en druk op de borstelharen uit te oefenen. Door te veel kracht kunnen de borstelharen uit hun lijmverbinding breken of losraken. Laat uw scheerkwast nooit weken in water met een temperatuur die hoger is dan uw huid zou kunnen weerstaan.


Zorg ervoor dat de scheerkwast na het scheren volledig vrij is van ALLE zeep- of crèmeresten – Gebruik schoon, warm water en knijp zachtjes in de basis van de knoop om te bepalen of alle resten verdwenen zijn (dit voorkomt de vorming van schimmel).
Schud de borstel voorzichtig en strijk de borstelharen lichtjes tegen een zeer zachte handdoek om overtollig vocht in de knoop te verwijderen.
Laat staan ​​of hangen (beide is prima) in een goed geventileerde ruimte, bij voorkeur vlakbij een open raam. Onvoldoende droogtijd tussen scheerbeurten ZAL resulteren in schimmel diep in de knoop en uiteindelijk haaruitval.
Probeer indien mogelijk een alternatief tussen twee borstels om een ​​droogperiode van 48 uur mogelijk te maken.
Was je borstel ongeveer elke maand met een normaal haarproduct om hem mooi en schoon te houden.