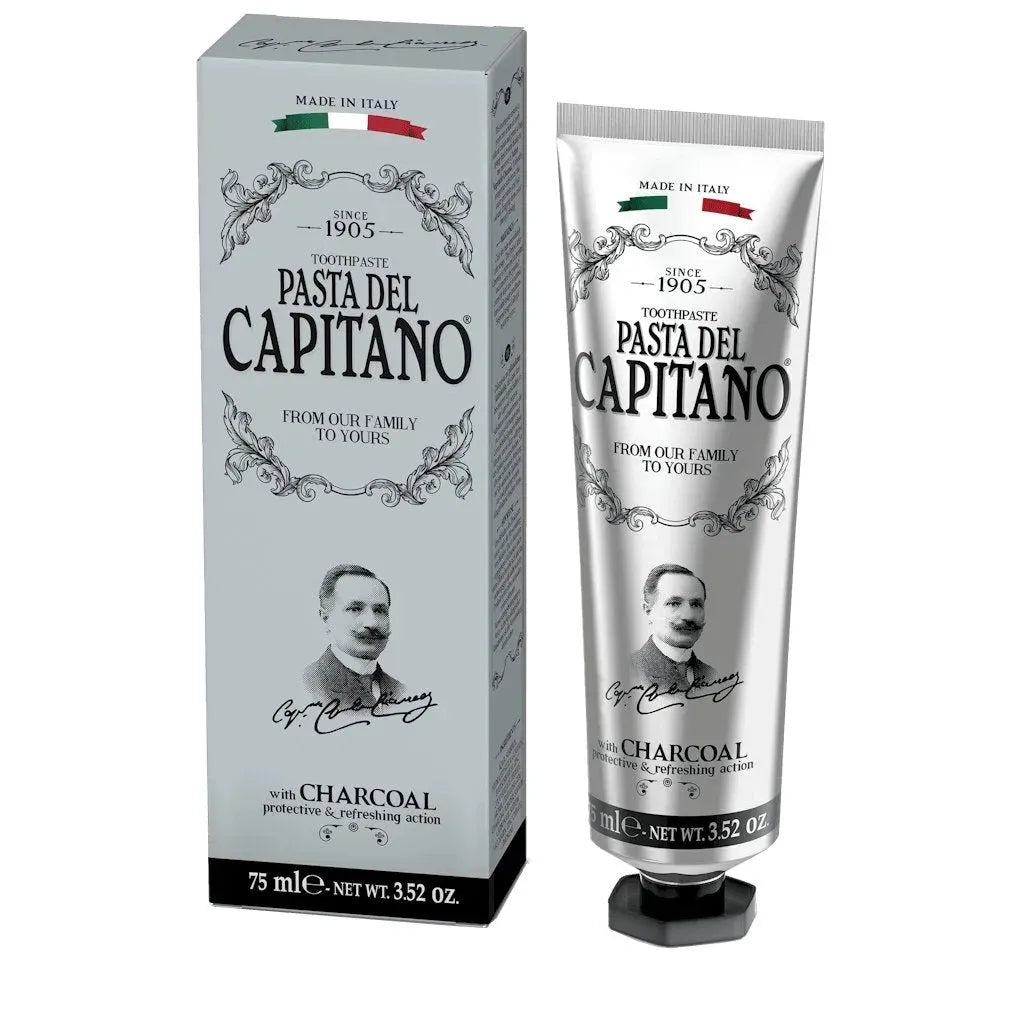 Tandpasta – Pasta del Capitano 1905 – Charcoal
Sale price
€5,95
Regular price
Tax included.
Tandpasta – Pasta del Capitano 1905 – Charcoal
Sale price
€5,95
Regular price
Product description
Ingredients
Toothpaste with activated vegetable carbon
This toothpaste does not contain Fluoride.
With active vegetable carbon
Does not contain parabens and microplastics
Activated carbon is able to absorb the substances that cause tooth stains and bad odors (see also explanation below)
Gives fresh breath and has a protective effect to guarantee the natural color of the teeth.
The toothpaste is black. This is a strange sensation at first, but after brushing and rinsing your teeth are wonderfully clean and the charcoal is no longer visible.
Available: in 75 ml tube
Activated Carbon has an extremely strong attraction to particles in air and water. This attraction at the molecular level is also called adsorption. To increase the surface area, the carbon must be made smaller, something manufacturers call activation. Activating carbon is usually done by means of high pressure and steam, which makes the structure porous and fine. The magnetic effect on toxins becomes many times stronger due to the increased surface area..
Activated (or activated) charcoal has been used in the medical world for decades to prevent poisoning in the gastrointestinal tract. Nowadays, activated carbon has also found its way into toothpastes. Many people use it to whiten their teeth naturally. There are thousands of positive reviews on the internet from people who claim to have whiter teeth. In many independent reviews we read that people are very pleased with the activated carbon. An added benefit is that it can also remove toxins, bacteria and bad breath..
INCI:
AQUA, SORBITOL, HYDRATED SILICA, FLUORIDE, RETINYL PALMITATE, TOCOPHERYL ACETATE, CENTELLA ASIATICA EXTRACT, SODIUM ASCORBYL PHOSPHATE, PROPYLENE GLYCOL, CI 77007, LINALOOL, LIMONENE, CI 42090 (FD&C BLUE 1), CI 47005 (D&C YELLOW 10))