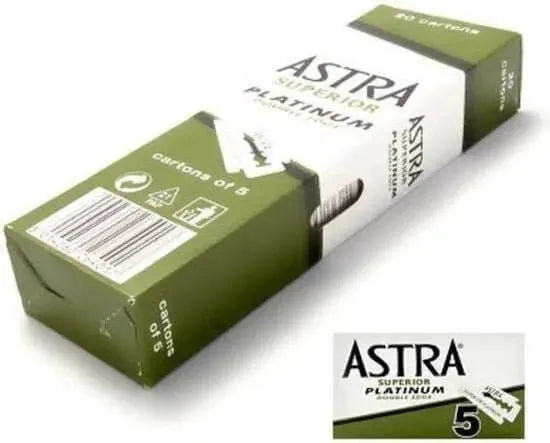 Astra Razor Blade Scheermesjes mannen - 100st - Double Edge scheermesjes
Sale price
€9,95
Regular price
€19,95
Tax included.
Astra Razor Blade Scheermesjes mannen - 100st - Double Edge scheermesjes
Sale price
€9,95
Regular price
€19,95
Product description
Ingredients
Astra razor blades
Astra Superior Platinums razor blades are very sharp blades with a very long lifespan. They are a bit more aggressive than most razor blades, but if you do not have sensitive skin, these blades are highly recommended.
They give a smooth result and are suitable for all skin types except sensitive skin.
Sharpness 4 (on a scale of 5)
Astra blades are individually wrapped in paraffin paper in a box of 5 pieces.
20 boxes of 5 pieces=100 razor blades
Superfijne mesjes!
Natuurlijk ligt het aan je huidtype en haargroei welke mesjes er fijn zijn, maar ik heb denk ik gemiddelde baardgroei en een normale huid, maar dit zijn voor mij de fijnste mesjes die er zijn (en ik heb er best wat geprobeerd). Zoals al aangegeven in de beschrijving blijven ze inderdaad lang scherp en, alhoewel de mesjes flink scherp zijn, scheren ze best "vergevingsgezind" in mijn beleving. Mijn favoriete keuze voor mijn Dovo shavette.