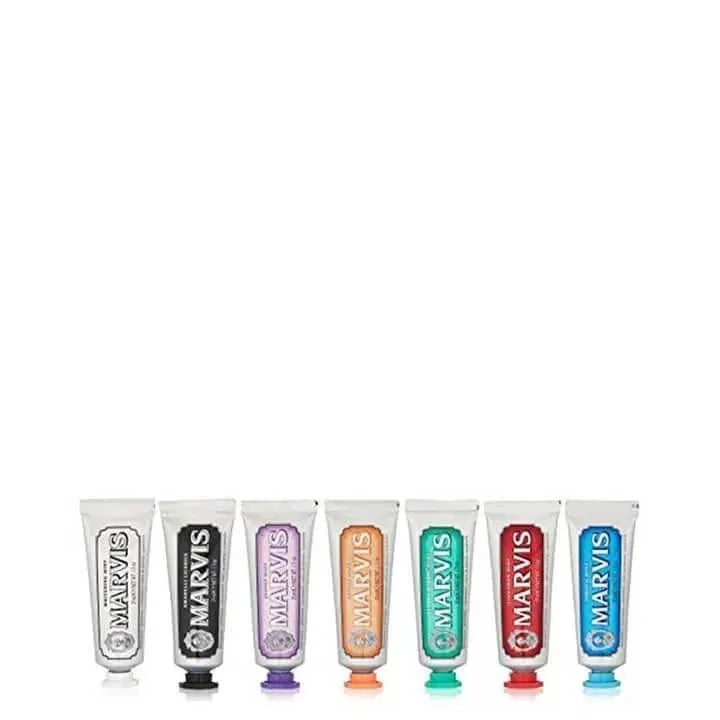 Marvis Tandpasta 7 Smaken 7x25 ml
Sale price
€18,95
Regular price
Tax included.
Marvis Tandpasta 7 Smaken 7x25 ml
Sale price
€18,95
Regular price
Product description
Ingredients
Marvis Toothpaste 7 Flavors
This set consists of 7 Marvis toothpastes, one for every day. If you can't choose from the seven unique flavors, this tempting set is a solution. Enjoy whiter teeth and fresh breath all day long with a new flavor for every day of the week.
This luxurious toothpaste is also known to fight plaque, cavities and gingivitis.
The flavors of Marvis toothpaste
Aquatic Mint - refreshing like the sea breeze. A wave of crystal clear water with the delicate freshness of cool mint.
Cinnamon Mint - an unusual and fun blend of cinnamon and mint that awakens your senses.
Classic Mint - mint-based, provides an intense and long-lasting freshness that knows no bounds.
Ginger Mint - seductive, hypnotic and exotic aroma. A fantastic mix of ginger and mint that provides a magical contrast. A special, spicy taste experience
Jasmine Mint - floral notes of jasmine meet the scent of mint, creating an unusual and exciting encounter. Has a pleasant floral jasmine flavor
Whitening Mint - a whirlwind of cold, an arctic chill with a long-lasting fresh mint feeling.
Amarelli Licorice - bitter and sweet, a sensual blend thanks to a touch of Amarelli - toothpaste with an original and bittersweet licorice flavor.
It comes to you in a pack of seven 25 ml tubes, with a vintage design.
INCI:
Glycerin, Aluminum Hydroxide, Water (Aqua/Eau), Silica, Aroma (Flavour), Cellulose Gum, Titanium Dioxide, Xylitol, Sodium Lauryl Sulfate, Sodium Saccharin, Sodium Fluoride (0.20%), Citric Acid, Sodium Citrate, Limonene.