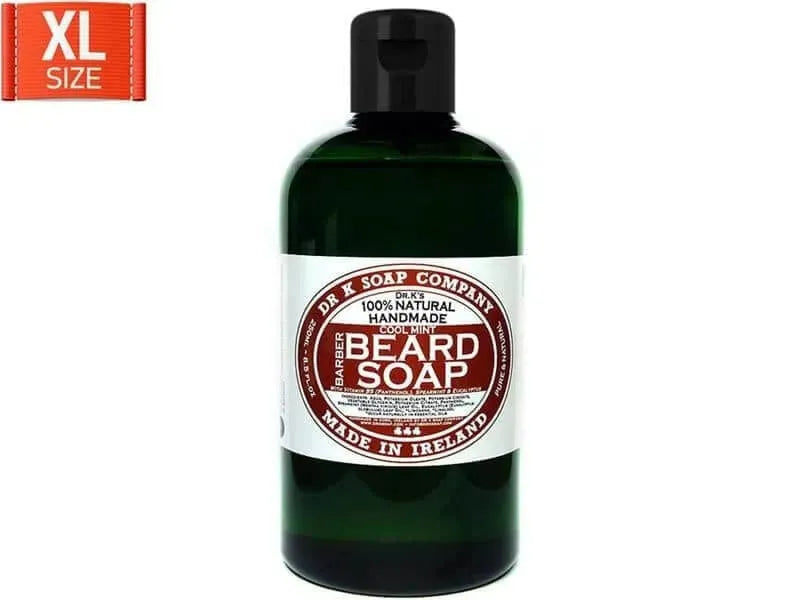 Dr K Soap Company - Baard Zeep - Cool Mint - 250ml
Sale price
€29,95
Regular price
Tax included.
Dr K Soap Company - Baard Zeep - Cool Mint - 250ml
Sale price
€29,95
Regular price
Product description
Ingredients
Cool Mint Baard Zeep van Dr K Soap Company, handgemaakt met 100% natuurlijke ingrediënten voor een gezonde en glanzende baard. Deze milde vloeibare zeep bevat Pro-vitamine B5 (Panthenol) en Glycerine, geformuleerd met volledig natuurlijke ingrediënten.
Provitamine B5 (Panthenol): Panthenol, een natuurlijk bevochtigingsmiddel, houdt vocht vast en voorkomt dat huid en haar uitgedroogd raken. Aangezien panthenol zich ook gelijkmatig over het oppervlak van de haarstreng verspreidt, vormt het een gladde film over de haarschubben die de lichtreflectie verbetert en het haar meer doet glanzen.
Glycerine: Een krachtig, natuurlijk bevochtigingsmiddel dat vocht vasthoudt in het haar en de huid.
Bij regelmatig gebruik zal deze zeer voedende baardshampoo de baard zacht en gezond maken. Ruikt ook heerlijk - dankzij de toevoeging van Spearmint en Eucalyptus Etherische Oliën.
Voor het beste resultaat breng je onder de douche of in bad een klein handjevol aan op je baard, laat het schuimen en spoel het af.
Geen kunstmatige kleur- en geurstoffen of conserveringsmiddelen.
Handgemaakt in Ierland volgens strikte EU cosmetica richtlijnen.
INCI:
Aqua, Potassium Oleate, Potassium Cocoate, Vegetable Glycerin, Potassium Citrate, Panthenol, Spearmint (Mentha viridis) Leaf Oil, Eucalyptus (Eucalyptus globulus) Leaf Oil, *Limonene, *Linalool – *Occur naturally in essential oils